Thousands of Chicago protesters shut down a major highway on Saturday to oppose gun violence and call for stronger gun laws.
After an hour-long standstill, police announced they were shutting down all northbound lanes of the Dan Ryan Expressway to allow protesters to march on the road.
Mayor Rahm Emanuel and the city's police superintendent had voiced support for the protest, which was led by the Rev Michael Pfleger, the charismatic Catholic priest heading a largely African American church in one of the South Side neighborhoods hard-hit by gang violence.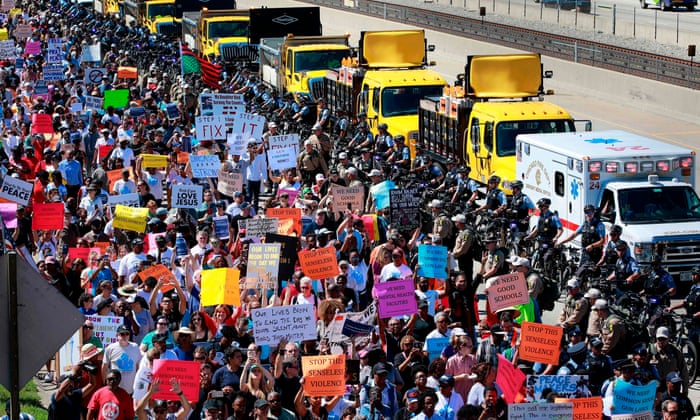 Illinois state police have jurisdiction over the interstate, and had threatened to arrest anyone who stepped on to the entry ramp.
But protesters were allowed on to several lanes of highway on Saturday as corrections department buses waited alongside. Protestors chanted "shut it down."
Pfleger, the Rev Jesse Jackson and Chicago police Superintendent Eddie Johnson were walking side-by-side among them.
After long negotiations between police and march leaders, the protest was eventually allowed to take over the whole highway northbound and proceed.
Daniel Blalock, 35, said had been willing to get arrested if necessary: "I didn't come here planning to go home. I want peace, just peace. It's going to take a long time but this is the first step."
Shortly before the march began, Illinois's governor, Bruce Rauner, said that Pfleger and other organizers had agreed to limit their demonstration to the highway shoulder, without taking over the road. In a tweet, Pfleger called the assertion a "LIE" and said the protest would go on as planned.
Later in the day, Rauner called the shutdown "unacceptable." The Republican said in a tweet Saturday that he was "disappointed" in Emanuel, and called on him to "take swift and decisive action to put an end to this kind of chaos."
Emanuel responded in a tweet : "It was a peaceful protest. Delete your account."
Protesters said they hoped the march would push public officials to pass stronger gun control laws and address the underlying causes of gun violence in Chicago.
"If Governor Rauner and Mayor Rahm Emanuel can meet in secret to decide to give Amazon a billion dollars," referring to officials' attempts to lure the company to Chicago, "they can meet and decide to do something about not only gun violence but inequality," said attorney Eric Martin White, 50, carrying an American flag.
I'm hoping that this is just a little spark that encourages people to continue to lift their voices and demand a redress of grievances," he said. Katherine Pisabaj, 19, wore a black halter top to the march to show the scar running down her stomach, where doctors operated after she was shot in the back on 25 February in the city's Logan Square neighborhood, a hipster enclave that also sees gang violence.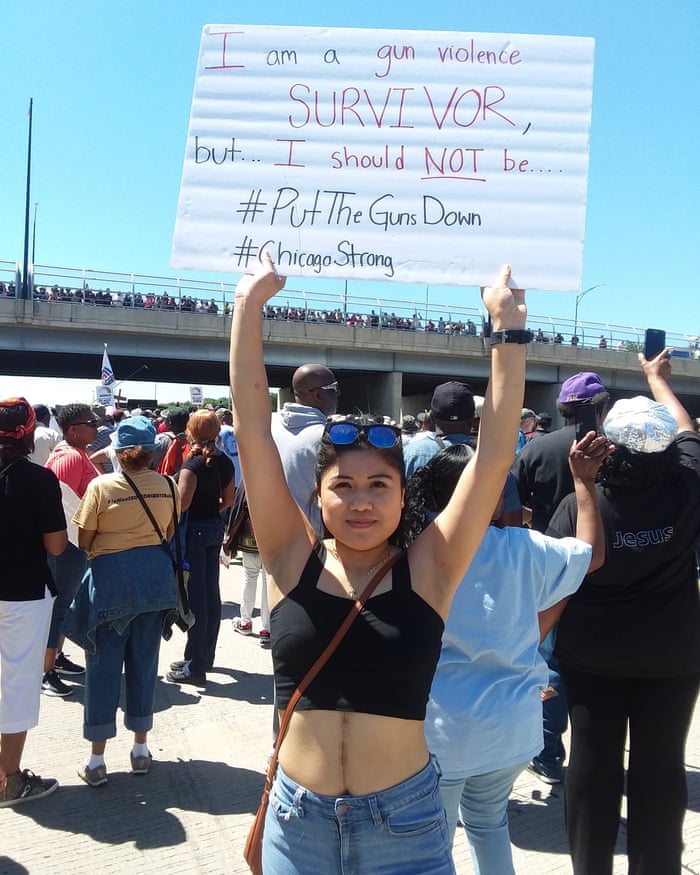 Her mother, Yolanda Segura, held a sign calling on President Trump to help Chicago. Pisabaj's four young nephews joined them, sitting on the hot concrete of the highway as protesters waited for news of the lane closures. "This can't be a shared experience any more, I don't want my nephews to have to go through what I went through," she said. "Now that young people are speaking up and getting involved, we have a lot more power. I don't think this will be an issue my whole life, we're going to make a change." Pisabaj, a college student planning to study nutrition science, said police found that a gang member had shot her in a case of mistaken identity. "It can happen to anyone of any age anywhere," said Segura. "We need stronger laws on guns." Pfleger and his parishioners are calling for "commonsense" gun laws and for city and state officials to meet with them to talk about what they see as the root causes of the city's notorious gun violence: poverty, lack of jobs, subpar or shuttered schools for largely African American residents on the city's South and West sides. Last year more than 3,000 people were shot in Chicago, more than 600 of them fatally.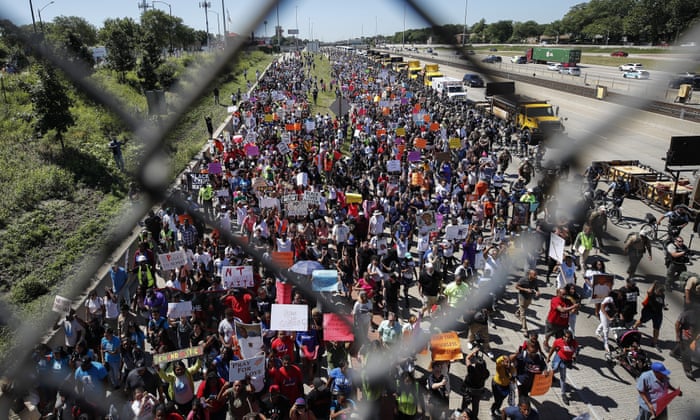 There have long been frequent neighborhood protests and events against gun violence in Chicago, including marches, midnight basketball games to provide positive alternatives for youth, and block parties to reclaim public space from gangs.
While Chicago's almost entirely Democratic elected officials generally support gun control, Saturday's march also drew criticism. Many complained about the traffic it would create for weekend travelers, while one African American pastor accused Pfleger, who is white, of grandstanding and trying to "play Tarzan" in the black community.
Pfleger has pointed out that the highways are periodically closed for presidential visits and other reasons. Jackson was quoted in the Chicago Tribune saying, "Stopping traffic is less damaging than the shooting and the killing and the jailing."
On Thursday night, Chicago police arrested 106 people and seized large quantities of drugs in what the police superintendent described as an effort to crack down on gun violence and see prosecution of repeat gun offenders.