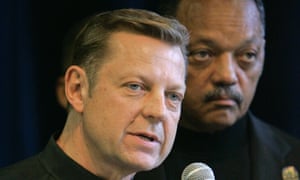 CHICAGO — A Chicago community group is suing three suburbs, accusing them of not adequately monitoring gun stores they believe are the source of weapons that have filtered into the city.
The Rev. Michael Pfleger
on Tuesday announced the lawsuits against Lincolnwood, Lyons and Riverdale. The activist priest says many of the guns recovered from Chicago crime scenes came from stores in those communities.
Lawyers for the Coalition for Safe Chicago Communities filed the lawsuit in Cook County Circuit Court claiming the suburbs' gun store regulations violate the Illinois Civil Rights Act.
Pfleger contends violence is a civil rights issue and by failing to monitor the gun sales adequately the stores are violating families' rights by preventing them from doing regular activities such as walk to school and play in parks.
Link to story